PTF proTUNE Results, PUMP gas stock turbo record and comparison dynos with JB4 G5
In almost every initial email people ask us what we can do for them with our custom tuning power wise. Some come to us with bone stock cars and ask about getting parts to go full bolt on and get a custom tune. Others come to us with an existing Cobb OTS tune and ask about gains while some already have a tune such as the latest JB4 G5 with and without the free BMS backend flash.
We spent some time on the dyno and gathered up some neat results to demonstrate what we can do. The runs are on pump 93 octane, same day, details below.
Car and its modifications:
2007 335i 6AT
WINTER tires (they actually hurt power a little over summer tires due to thread design, read more here if you like).
3″ catless downpipes
OEM exhaust
BMS DCI intakes
Intercooler
93 octane pump gas
All runs done in 4th gear
We started with a baseline run with all the boltons on the car and just a Factory (OEM) tune flash and from there did our custom tuning. Other than being a great all around consistent reliable tune this is also a stock turbo pump 93 octane N54 torque World Record.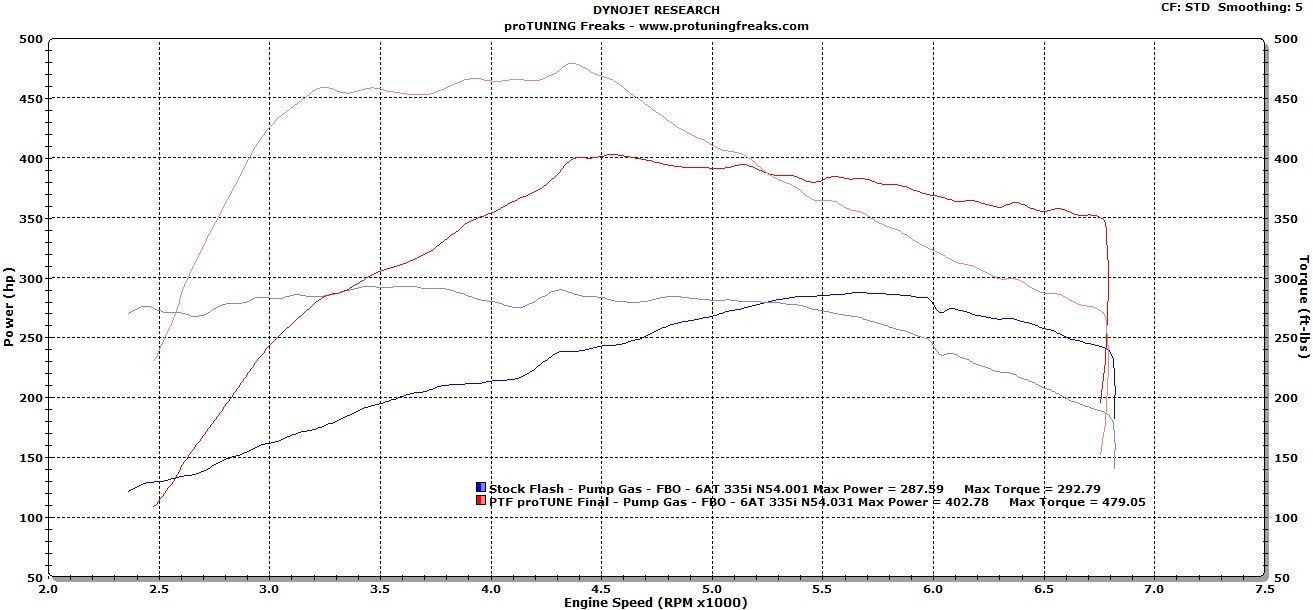 Gains of +115whp and +187wtq over stock baseline of the same car, same dyno, pump gas and FBO modifications. That will transform your stock N54 entirely and provide it with enough punch to confuse a lot of other cars on the road while doing so on your no-hassle pump gas :)
As the car came to us with a JB4 G5 ISO on it we moved on to get some runs with it installed. First we uninstalled the Cobb AP entirely from the car and ran the JB4 as most people out there seem to run it, without a pump gas backend flash. Here are the results:
The tune above had a number of timing corrections on Map 1, 2 and 5 and we felt that we should flash the free BMS pump gas flash and get what we and BMS feel is a more appropriate tune these days. Here are the results:
Above shows the power actually went down from No BMS backend flash runs. However, given how Map 1, 2 and 5 are setup for boost this setup actually is considerably less knock prone and safer to run on the car than the No backend flash. In case you're running a JB4 out there without an appropriate flash at least do yourself a favour and grab the BMS free flash. Your N54 will thank you for it.
At this point we installed the Cobb AP back on the car and ran the Cobb OTS Stage 2+Agg map that comes preloaded on the Cobb Accessport to get a sense of how it compares against the JB4. Here are the results against the JB4 without the free BMS backend flash:
Considering how simple it is to plug the Cobb AP into the OBD2 port and just flash it with this OTS map and considering the logs show absolutely no knock while making more power everywhere we felt the Cobb AP brings the most complete off the shelf tune available on the market even without any custom tuning.
Here is the same Cobb Stage 2+Aggressive map against the JB4 G5 with a BMS backend flash:
Here are results of our custom tune compared to the off the shelf map. Note almost +30whp/+80wtq gains at peak over the Cobb Stage 2+Agg OTS map and as much as +70whp gained in midrange.
Let us know if any questions at all. Our custom tuning has been built and refined over many years with the N54 and we will guarantee a consistent reliable tune for all of our customers. Tuning comes with lifetime support from us and unlimited map revisions as long as the car needs a revision on the same mods/octane we're there to help free of any additional charge.
With the recent introduction of ignition timing logging on the JB4 G5 we've adopted it as well for custom tuning when/where required and will provide custom backend Cobb flashes to run with the JB run exclusively on a custom map 6 where higher numbers are available to be had as well but it is nice to see what Cobb OTS vs. JB4 OTS vs. stock baseline and custom tuning can do all in one place gathered on the same car same octane same dyno same day.
When we get a chance we'll do a similar exercise on higher octane and demonstrate our results.
---
---